WHAT FIRE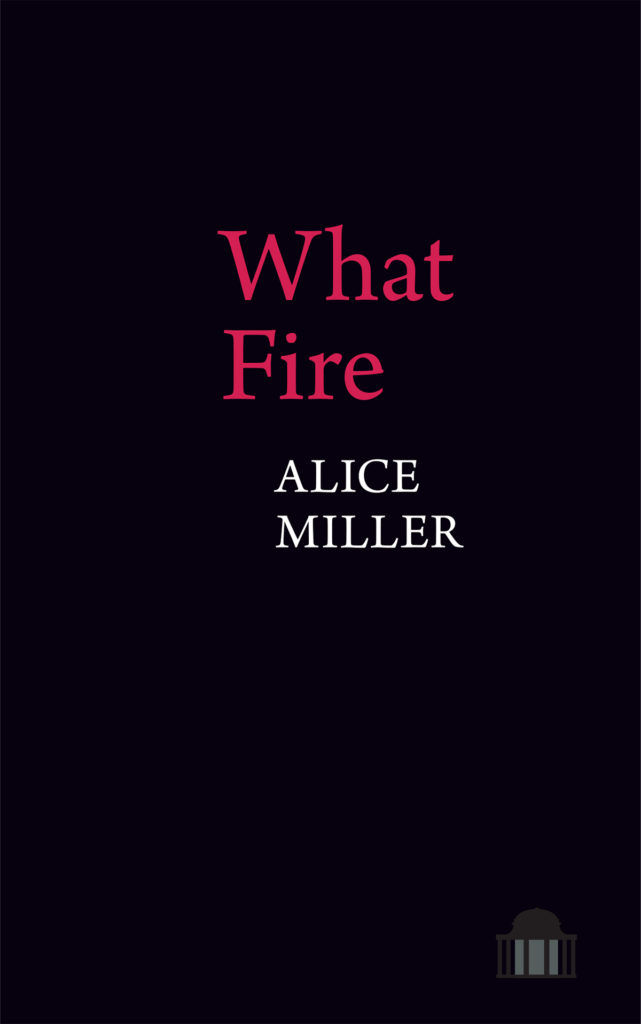 Published in May 2021 by Pavilion (Liverpool University Press).

Poems from the book can be read online in Poetry Magazine, The Times Literary Supplement, The New Republic, and The Poetry Review.

More about the book can be found here. Available in the UK, in the US, in Norway, in Germany, and in NZ.
Nowhere Nearer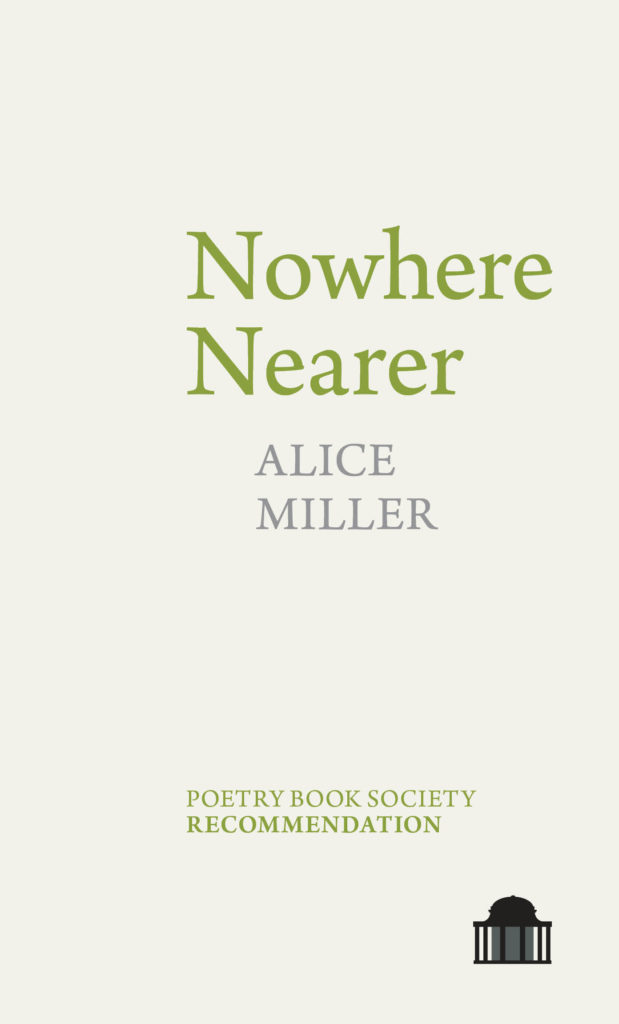 Published in the UK by Pavilion (Liverpool University Press) and in New Zealand by Auckland University Press, 2018
Poetry Book Society Recommendation, UK, Summer 2018
The NZ Listener, 10 Best Poetry Books of 2018
Is nowhere a place we can get closer to? In her compelling second collection, Alice Miller tackles the circularity of thought, the company of the dead, and the lure of alternative futures. These poems rip into pockets of histories, trying to change facts and voices, searching for the word's version of music's home key. They dare you to visit, through a series of cities, the futures we never let happen.
"Miller's poems seem always susceptible — their arcs can be injured into new shapes, they are not set in their ways, or dully prefabricated. There's a compelling, vulnerable person inside … and so much more. She's willing to follow an impulse wherever it leads. To go so far, and no further; to turn aside, and notice something else. These poems are genuinely unpredictable, a rare thing, and their momentary stances or voice-postures have about them an air of irrepressible fiat. They can be epigrammatic — "A match strikes between / what we feel for those we know and / the bewilderment of strangers" — but often refuse the consolations of knowledge, exploding the urge to wallpaper the world with tedious explanation."
—Vidyan Ravinthiran, Poetry Book Society
"Here is a poet who wants to "speak in our/plainest tongues" but who also aims "to sing my way out." Alice Miller looks hard at history's terrifying straight lines, yet time and again turns to the obsessive, sometimes redemptive circlings of art. She knows that in a universe ruled by time and death, words can both rescue and destroy us, sometimes in a single utterance."
—Bill Manhire
"Alice Miller knows what is at stake in the infinitesimal, the split second, the infra-thin. The poems in her scintillating collection, Nowhere Nearer, make us aware of how precarious the earth's crust is, how treacherous the ambient oceans can be, and how ephemeral we ourselves are as we traverse great distances through the air. Birds, cities, relationships – all vanish in episodes of miniature apocalypse. The sensory richness of Miller's poetry – her gift for evoking place through texture and season, situation through detail and lacuna – only emphasises her conviction that all that was ever loved or cherished must be swallowed up by the flow of Lethe, the river of forgetfulness. Against this, she offers us the small-scale yet memorable redemptions of sensory beauty, unexpected metamorphosis, and the resilient will-to-narrate, its testimony refusing to slip out of sight or mind, or be blindsided by time."
—Ranjit Hoskote
"Haunted by apparitions of the past, Miller has written a curious and searching book that elegantly balances themes of love, loss and remembrance. This slim volume of poetry is incredibly ambitious in scope, claiming to tackle the circularity of thought, the company of the dead and 'the futures we never let happen.'"
—Jack Solloway, The London Magazine
"Nowhere Nearer is kaleidoscopic in its reach for heart and mind; silence matters as much as a delight in words and linguistic connections… The past makes way for the future and the future makes way for the past. It is a joy to read, and a joy to read again."
—Paula Green, New Zealand Poetry Shelf
"Nowhere Nearer is dominated by a sense of the ineluctability of time and death; and our inability to escape from the past and the cultures that have shaped us .… I think Alice Miller is doing the bracing work of a latter-day Schopenhauer, telling us that life, as we subjectively experience it, is so grim that we simply have to develop the intellectual resilience to deal with it."
—Nicholas Reid, Reid's Reader
Audio versions of many of the poems can be heard at the German website Lyrikline. and the New Zealand Electronic Poetry Centre. Individual poems can be found online in Five Dials, And Other Poems, Poetry London, and at the Akademie Schloss Solitude with photographs by Fotini Lazaridou-Hatzigoga.
Interview about the book with Wallace Chapman at Radio New Zealand National.
Available in the UK here, in New Zealand/Australia here, and from booksellers.
The Limits
Published in the UK by Shearsman and in New Zealand by Auckland University Press, 2014
An extraordinary first collection that stretches boundaries, tests limits, unstitches certainty. The poems in The Limits ask you to force yourself beyond your own boundaries. They are curious, restless, bold; they marry lyrical music and intricate metaphor as they search for other human voices beyond the rumblings of the apocalypse and the stubbornness of myth. From bare battlefields to crisp Antarctica to the gates of Troy, from re-written history to love story, these poems ask for something more from the world than just riding till the spoke breaks. A poet for whom one way's easy but an easy way's worse, Miller traces a path that leads beyond our limits – to where we set the sky on silent, where we're braver than science, and where we try to un-glimpse what we've lost.
"This is the first collection of multi-award-winning New Zealand writer Alice Miller. It is an extraordinary book, a departure in style and tone from anything else like it in New Zealand poetry."
—Helen Lehndorf, Booksellers New Zealand
"A very accomplished collection… which shows a very lucid and a very thoughtful mind as well as a technical craftsperson too."
—David Hill, Radio New Zealand
"Alice's debut collection liberates a way of reading that defies limits."
—Paula Green, New Zealand Poetry Shelf
"[The poems] read like fragments of cautionary tales, of psychodramas spun from love and fear, aspirations and disappointments. The poems offer intense, dreamlike evocations of mood and relationship dynamics through crisp, clean, yet elliptical and elusive phrasing."
—Emma Neale, New Zealand Poetry Shelf
"This is a visionary and wonderful collection, full of challenges and pleasures. It's a collection that makes you feel directly addressed. The poems are as intellectual as they are emotional – not hiding behind one or other of these potential posture, but making them speak (and yearn and want) together. The Limits is a brave book and it also asks us – as readers and as people, I think – to be brave."
—Ingrid Horrocks
Poems included in the book also appear online in Boston Review, Narrative (excerpt), The Iowa Review, and in video form at Better.
Review of the book on Radio New Zealand.
Interview on Radio New Zealand.
Available in the UK here, in New Zealand/Australia here, and from booksellers.
Blaue Stunde
Edition Solitude, 2016
In German translation

Selected poetry and a letter exchange with the Pakistani author, Bilal Tanweer, author of The Scatter Here is Too Great. Translated from the English by Nicolai Kobus. The letters are available to read in English here.

Available here.